Home
> Step by Step
Step 1: Retrieve Your Data
Just select the program you're retrieving the data from and then select your retrieve preferences: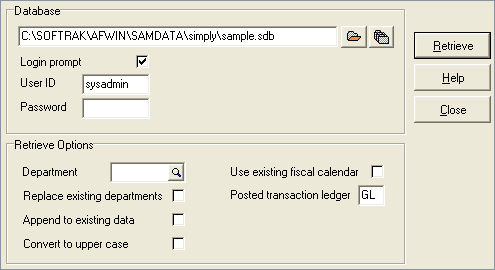 The retrieval process is very straightforward, yet flexible.
Once you've retrieved your data, you can view and modify it as needed, and print a wide variety of standard reports from it easily. And, of course, you can make presentation-quality financial statements in no time at all!
Step 2: Drag-and-drop to create your statement
Choose an account group and drop it on to the spreadsheet to instantly create a financial statement.

Along with the simple drag-and-drop functionality comes some great features, including the ability to create departmental comparatives by turning on one checkbox. It couldn't be easier!
When Adagio FX has easily taken care of the mechanics of your financial statement creation, you can also add your company logo to the statement, change formatting using styles or by cell or column, and more.
Step 3: Print it!
When you're ready to print your statements, Adagio FX provides straight print, departmental print, or group print options.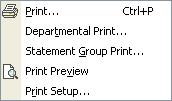 Departmental print lets you specify the fiscal period and the departments you want included on the report.
If you've set up Statement Groups, this print feature lets you print a whole series of financial statements with one click! It's an especially great time-saving feature if you need to print statements for numerous departments, or have a large number of financial statements that you print on a regular basis.
The End Result
In three easy steps, you can quickly create sharp, professional financial statements with your company logo, subtotal and total shading, and more.